Regular price
Sale price
$59.00
Unit price
per
Sale
Sold out
NEST - gives you up to 2 months of skincare products that are Natural, handcrafted & blended with pure Essential Oils. An introduction selection, personal gift or travel pack containing a 30ml Face Cream, 15ml Facial Oil and 30ml Facial Exfoliator. Nestled within a hand sewn bag featuring an Avocado Seed button. Bird and Earth is Australian made skincare that is environmentally conscious, vegan, cruelty free & using Green Energy when creating products.

Natural Face Cream -made from a natural cream base blended with Pure Organic Essential Oils. A beautiful combination of geranium, lavender, ylang-ylang, carrot seed, rosehip, vitamin E and tea tree. Using high-quality ingredients that have been selected for their nourishing, calming and healing effects. This cream is easily absorbed, leaving a non-greasy feeling. A blend of pure essential oils that have come together to heal and nurture your skin.

Natural Facial Oil -A blend of oils to naturally feed & nourish your skin. Recommended (but not limited) to use of an evening while you sleep. Includes the calming effects of lavender, reducing stress while you sleep with geranium and the healing effects of rosehip and clary sage. These high quality pure essential oils have been blended with Avocado Oil and Apricot Kernel Oil which both light, nourishing and absorb easily into the skin layers to assist with providing moisture, repairing damaged & stressed skin, aiding in the reduction of wrinkles and assisting with the firming of ageing skin. 

Facial Exfoliant - A blend of 100% Organic Pure Essential oils added to a natural clay base which assist in making your skin feel beautiful, youthful, soft, and glowing. Unlike a regular soap, cleanser or chemical base exfoliant, Bird and Earth Exfoliator uses ground walnut shell to eliminate old skin cells to make way for new ones. The essential oils that have been individually added and blended were chosen for their nourishing, supporting and healing properties. Containing Geranium, Lavender, Petitgrain and Tea Tree.

Organic Moisturiser - has been successful in assisting those who have extra dry skin & problem skin that needs a little extra loving. It is a smooth and silky moisturiser, easily absorbed into the skin, with the added benefits of Shea butter & Jojoba Oil. All ingredients, including essential oils, are certified organic. The essential oils, that assist in healing and nurturing the skin, consist of Geranium, Lavender, Ylang Ylang, Bergamot, Rosemary & Evening Primrose Oil. It may be used twice daily on its own or in the morning with the bird and earth Facial Oil being applied of an evening. 
When you have finished, hold onto this set and refill from the larger size jars as they make a great travel set. Or maybe returned to Bird and Earth to be re purposed.

View full details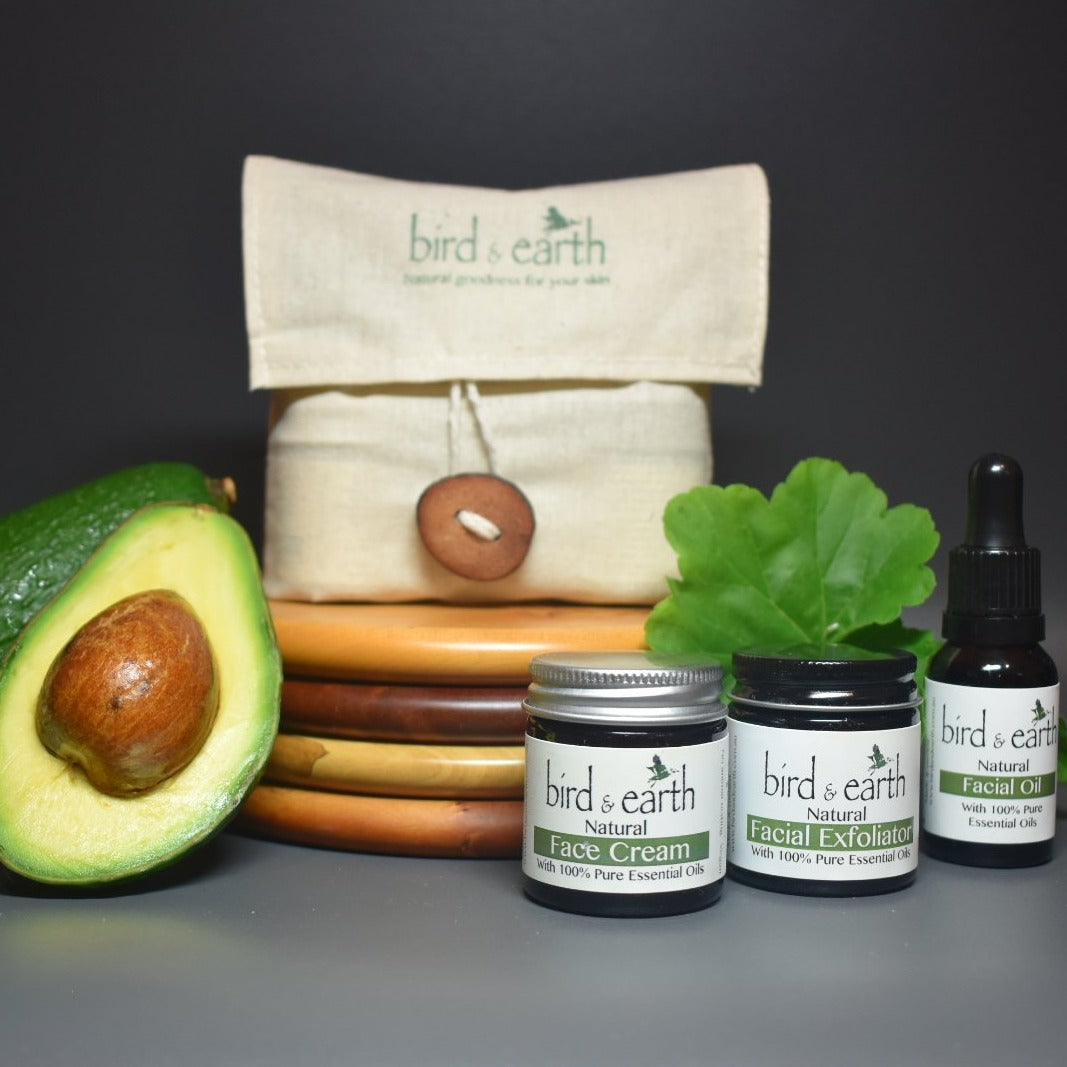 Our Promise
We are dedicated and committed to providing our customers with the highest integrity of service,
supplying natural, affordable skincare. We are environmentally friendly.